LOREN MOLEVER
PRINCIPAL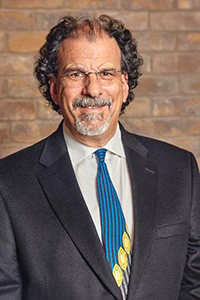 Loren Molever has been practicing law in the Valley for over thirty years after a brief career as a production assistant for CBS-TV sports, assigned to the PGA Tour. Loren practices in the area of business law, emphasizing commercial litigation and dispute resolution, business consulting, real estate litigation and employment law. In recent years, because of his litigation experience, Loren has been asked to litigate probate and estate matters for clients of estate planning lawyers in the Valley.
Loren has been a resident of the Valley for 50 years. Loren attended Arizona State University, obtaining his doctorate of jurisprudence from The Sandra Day O'Connor College of Law in 1982. Loren obtained his undergraduate degree (cum laude) in Television Production in 1977 from what is now known as the Walter Cronkite School at Arizona State. During law school, Loren worked for a semester in Washington D.C., as a legal clerk to Senator Dennis DeConcini and the Judiciary Committee of the United States Senate. Loren also was awarded first place in the law school-wide moot court legal writing and oral advocacy competition, and was later awarded fourth place in the Southwest Regional division of the same competition.
In 2008, Loren was asked to be co-campaign manager and treasurer for a candidate for the United States Senate, running out of Alaska and took a six-month sabbatical from his law practice to take that temporary position.
In 2009, Loren formed Molever Conelly PLLC with partner Chad Conelly. Molever Conelly PLLC has been officially selected by its peers to the "Bar Registry of Preeminent Lawyers" from the outset and continuing presently, given Loren's status as "AV Preeminent", the highest lawyer peer rating for legal ability and ethics offered by Martindale Hubbell, the nation's premier attorney peer- review rating organization. Loren has also been named as one of "Arizona's Finest Lawyers," an Arizona peer-review rating organization.
Loren has been involved in community service his entire adult life, having spent over 20 years as a volunteer and then board member and board Chair for the Arizona Region of the National Conference For Community and Justice (NCCJ—Anytown America), six years as a board member and board Chair for Valley Leadership, the Valley's chapter of the National Community Leadership Association, two terms as a board member of the Scottsdale Bar Association and was a three-time board Chair for the North Scottsdale Chamber of Commerce. Most recently, Loren served on the City of Scottsdale's General Plan Task Force, an 18-month process to draft the City's proposed 2035 general plan.